Sump Pump Accessories
We carry a large variety of sump pump accessories, including sump pits, covers and many others. Our "Big Bottom Basin" sump pump pit, for example, will help extend the life of your pump thanks to its larger amount of storage capacity. Your pump will not have to cycle on and off as often, and, as a result, will last a great deal longer.
---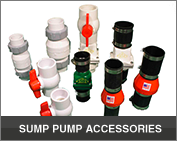 Sump Pump Accessories to Bring You Peace of Mind
If you are tired of having to stress out every time it rains because you are worried your basement will flood, you need to get in touch with Basement Flood Protector. We have several different types of sump pump accessories that will ensure your basement remains dry and all of its contents remain safe.
For example, we carry sump pits and covers, which are valuable components of any sump pump system. We not only carry the best pits and covers on the market, we also have them in many sizes. All you need to do is get in touch with us and we will work closely with you to ensure you get exactly what you need.
Basement Flood Protector offers a wide range of sump pump accessories that will keep a basement dry no matter what the elements can dish out. These products include sump pits, sump covers, electric sump pumps and much more.
The "Big Bottom Basin" Sump Pump Pit
One of our most popular sump pump accessories is the Big Bottom Basin sump pit. This two-chambered, extra-wide bottomed pit will greatly extend the life of your pump equipment due to its larger storage capacity. This extra-large capacity will reduce the need for your pump to cycle on and off as often. If the pump does not have to work as hard, it will simply last longer. The basin, which comes with a clear cover, will allow your pump to work freely without space restrictions.
Standard Sump Pits and Covers (the following are not Big Bottom Basins):
22″ X 18″ Poly Sump Pit
30″ X 18″ Poly Ejector Pit
18″ Poly Sump Pit Cover (20.5″ o.d.)
18″ Ejector, Gas Tight Cover, Poly (21″ o.d.) (2) 2″ pipe gaskets
36″ X 22″ Poly Basin
22″ Steel Pit Cover
Sump Pump Valves
Check Valves:

Clear Quite Check Valve (1 1/2″ Glue-In)Clear Quite Check Valve (1 1/2″ Rubber Connectors)Clear Quiet Check Valve (2″ Glue-In)Clear Quite Check Valve (2″ Rubber Connectors)

Backwater Valves:

MainLine 4″ Home estimate required.

Batteries:

Maintenance Free Deep Cycle Marine Battery (Group 31)AGM Battery (Group 31)
Sump Pump Switches
AC Switches:

Vertical Master

DC Switches:

BFPVM Vertical Master (Same as VM switch listed above, modified for Protector pumps.) BFP Standard Fully Adjustable Switch Included With Protector